If you're a Shopify store owner, you know the importance of meta tags for your online presence. Meta tags are an essential part of optimizing your store and increasing visibility, yet many store owners are unaware of how to add them in the correct way. In this guide, we'll give you step-by-step instructions on how to add meta tag to Shopify so that your store can better reach potential customers searching in search engines.
What Are Meta Tags?
Meta tags are snippets of code embedded in the HTML of a web page's header. They provide concise but crucial information about the webpage's content to search engines and browsers. Typically, they consist of a title tag, meta description, and meta keywords. On shopify, the meta title tag ideally falls between 70 characters, and the meta description ideally falls between 70 and 320 characters. These meta tags play a significant role in influencing how the webpage appears in search results and impacting its search engine optimization (SEO) efforts.
While less influential than in the past, meta tags still offer vital cues for search engines to understand a page's topic and relevance, aiding in accurate indexing. Effective title meta descriptions enhance a webpage's visibility and accessibility within search engines, ultimately contributing to improved online discoverability.
Why Are Meta Tags Important?
Meta tags are crucial for several reasons:
Search Engine Optimization (SEO)
Meta tags, especially the title and meta description tags, directly impact a webpage's ranking in search engine results. Well-optimized meta tags can help improve a page's visibility and click-through rate, which can lead to more organic traffic.
User Experience
Clear and relevant meta tags provide users with a preview of what to expect from a webpage. It helps users decide whether to click on a search result or not, improving the overall user experience.
Categorization and Indexing
Search engines use meta tags to understand the content and context of a webpage. This aids in accurate categorization and indexing of the content, making it easier for users to find relevant information.
Social Sharing
When users share web pages on social media platforms, meta tags Shopify often determine the meta title, meta description, meta keywords, and image that accompany the link. Well-optimized meta tags Shopify can make shared links more appealing and informative.
Accessibility
Meta tags can also contribute to making web content more accessible to people with disabilities. For example, providing descriptive meta tags for images helps screen readers provide meaningful descriptions to visually impaired users.
Marketing and Branding
Meta tags can be used strategically to convey a specific message or highlight key selling points, contributing to branding and marketing efforts.
Mavon Shopify Theme
Boost your online store's conversion rate with Mavon, the high-converting Shopify theme. Elevate your brand with its visually stunning design, flexible sections, and top-notch user experience.
Step-by-Step Guide on How to Add Meta Tag to Shopify
Adding Meta Tag to Homepage Tab
Want to know how to add meta tag to Shopify website, follow these straightforward steps:
Step 1: Selecting Online Store and Customizing Preferences
Begin by accessing the dashboard and locating the left-hand bar. From there, navigate to the "Online Store" and click on it. Then, proceed to select the "Preferences" tab located below this.
Step 2: Enhancing Meta Title and Meta Description for Homepage
Within the provided text fields, introduce a meta tag to your Shopify homepage. This involves incorporating a concise Homepage meta title and a Homepage meta description. The Homepage meta title should not exceed 70 characters, while the Homepage meta description should be limited to around 320 characters or less.

Prioritize the inclusion of key keywords within both the meta title and description. To finalize your changes, remember to click the "Save" button.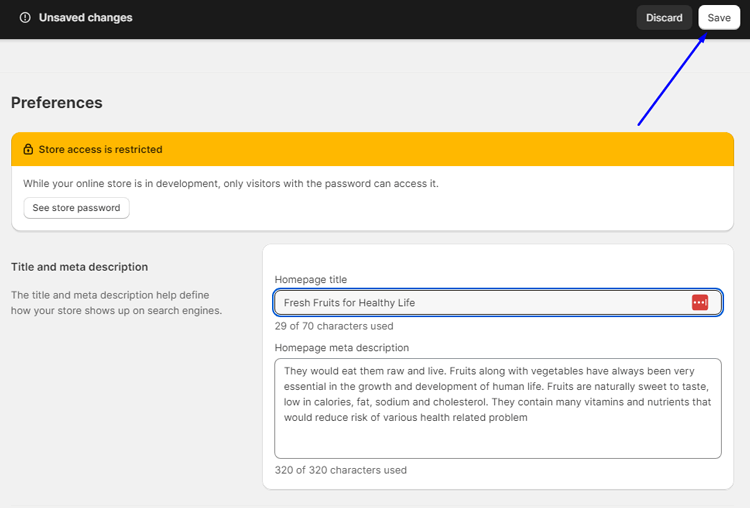 Step 3: Verification
To ensure that your adjustments to the meta title have taken effect, the recommended approach is to visit your store and confirm the presence of the updated text within the browser tab's title. In addition to reviewing the tab title, it's advisable to inspect the page's access source code for each modification made. If any disparities arise, indicating that the desired outcome hasn't been achieved, you must revisit your template for further refinement.
Adding Meta Tags to All Products Tab
To incorporate a meta tag, including the meta title and meta description, into the Products tab of your Shopify store, follow these steps of how to add meta tag to Shopify product tabs:
1. Begin by accessing the "Products" section in your Shopify admin panel.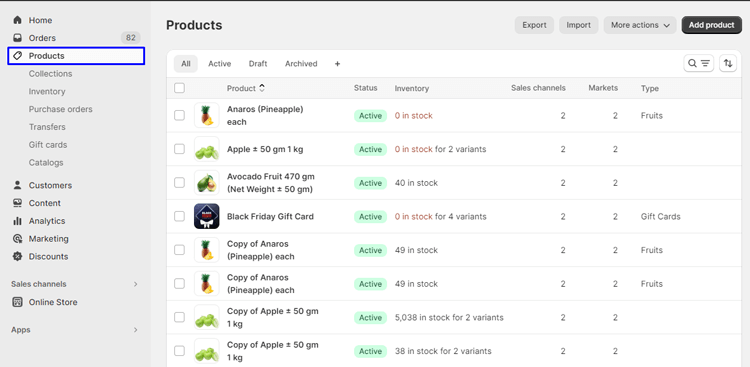 2. Within the right-hand dashboard, you'll find a list of products. Choose the specific product you wish to edit. If no products are listed, simply click "Add Product" to create a new one.
3. Enter the desired values for the new product page title and meta description. Navigate to the bottom of the page and locate the "Search Engine Listing Preview" box. Click on the "Edit" button within this box to modify the relevant information.
4. Finally, it's crucial to verify that each alteration has been accurately implemented by inspecting the page's source code. If any discrepancies are identified, adjustments to your template may be necessary to ensure compatibility.
Adding Meta Tag to General Pages Tab
To insert a meta tag within the General Pages tab of your Shopify store, follow these steps:
1. Start by navigating to the "Online Stores" section and then select "Pages." If you don't have an existing page, you can create one. Afterward, input the desired values into the title and content fields.

2. Beneath this, you'll find a section for search engine listing previews. Click on "Edit website SEO" at the page's top right corner to include and review the title and meta description.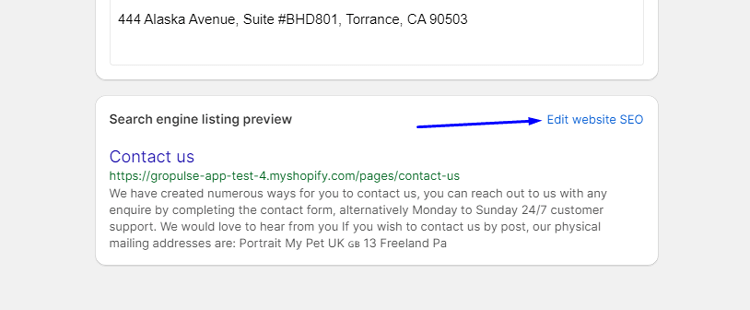 3. To ensure the accuracy of your changes, inspect the page's source code. This will confirm whether each modification has been executed according to your intentions.
🚀 Ready to skyrocket your Shopify store to success?
🚀 Unlock the secrets to success and boost your sales 📈 with ShopiBuffet's expert services. Don't miss out, get started now!
Frequently Asked Questions
What if I forget to add a meta tag to one of my Shopify pages?
If you forget to add a meta tag to one of your pages, don't panic. It's never too late to optimize your store. Simply go back and follow the steps outlined in this guide, and you can add that missing meta tag.
How often should I update my meta tags?
Updating your meta tags should be part of your regular SEO maintenance. An update may be necessary if you change the focus of your page or add new products. Staying relevant is the key to search engine visibility.
Can adding meta tags improve the ranking of my Shopify store?
Yes, meta tags are a crucial part of SEO. They don't directly affect your rankings, but they can improve your visibility in search engine results, which can lead to more clicks and ultimately higher rankings.
What should I include in my meta tags?
Your meta tags should be concise and relevant to the content of your page. Include keywords that your customers might search for, and make sure to update your meta tags if your content changes.
Do all Shopify themes support meta tags?
Yes, all Shopify themes support meta tags. However, the method of adding them might differ slightly depending on the theme. But the general process remains the same, which has been outlined in this guide.
Hire Experts to Build Your Shopify Store (Recommended-ShopiBuffet)
Look no further than ShopiBuffet for top-tier Shopify services. ShopiBuffet is your go-to place for everything Shopify, offering an unmatched experience. With the assistance of seasoned experts, you can quickly build a reliable online dropshipping store.
Its staff members bring a plethora of knowledge to the table. They expertly manage every aspect of your online business, from creating attractive themes to configuring products, assuring easy navigation, and optimizing sales channels and collections.
However, ShopiBuffet offers more than just store setup. They go above and beyond to secure your online success by offering constant help and direction. With committed customer care, you'll never face the challenges of managing an internet business alone.
ShopiBuffet customizes its services specifically to your own demands, whether you're a beginner or an experienced pro, making the art of online selling simple. Trust ShopiBuffet to make your Shopify experience a successful and straightforward endeavor.
Conclusion
A good meta tag contains relevant keywords that make it easier for users to locate your site when searching for products or services that your site offers. With that said, it's important to ensure your meta tags are optimized for your store's specific keywords, so be sure to include relevant and unique meta descriptions for each page of your site.
The process of adding meta tags to your Shopify online store involves a strategic approach to enhance your website's search engine ranking and overall visibility. By incorporating relevant and descriptive meta tags, you empower search engines with the vital information required to comprehensively grasp the nature of your site.
This practice effectively aids in enabling potential customers to easily find your online store when they search for related terms. To learn how to add meta tag to Shopify, you can follow specific guidelines and best practices to optimize your store's online presence.