Are you considering pausing your Shopify store? Whether taking a break for the holidays or thinking of closing your Shopify store temporarily, this guide will show you how to pause a Shopify store easily. Pausing a Shopify store is a great way to take a break without losing your hard-earned customers and data. In this guide, we'll walk you through the process of pausing your store step by step.
Things to Consider Before Pausing Your Shopify Store
Running a successful e-commerce store is no easy feat, and sometimes it can feel overwhelming. With Shopify, you can pause the store if you need a break or some time to reassess. However, before hitting that pause button, there are a few things to consider.
If you've received funding through Shopify Capital, pausing the Shopify store can affect your remaining advances, so it's important to contact Shopify Support for more information.
Additionally, the Pause and Build plan isn't available for Shopify Plus stores, and you can only select this option if your store is on a paid plan.
Don't forget to uninstall third-party apps with recurring charges to avoid being billed while your store is paused.
Take some time to think it over, and be sure to make an informed decision before pausing your Shopify store.
What is Shopify Pause and Build Plan
For business owners who need to take a vacation from selling but still want to work on their store, Shopify Pause and Build plan is a great choice. With this plan, you can cut the cost of your Shopify admin access down to just $9 per month, allowing you to keep modifying your products.
It's crucial to remember that even though you can still change your products, you won't have access to checkouts, meaning that none of your potential consumers can place any orders. They can only provide product reviews.
Your access to discounts, point-of-sale (POS) features, third-party integrations, and abandoned checkout recovery are also blocked by the Pause and Build plan. Potential clients can only receive draft order invoices, but these draft orders won't be automatically converted into live orders.

Steps on how to pause a Shopify store
The process to pause the Shopify store is simple that can be done in just a few steps:
First, log in as the store owner of your Shopify store.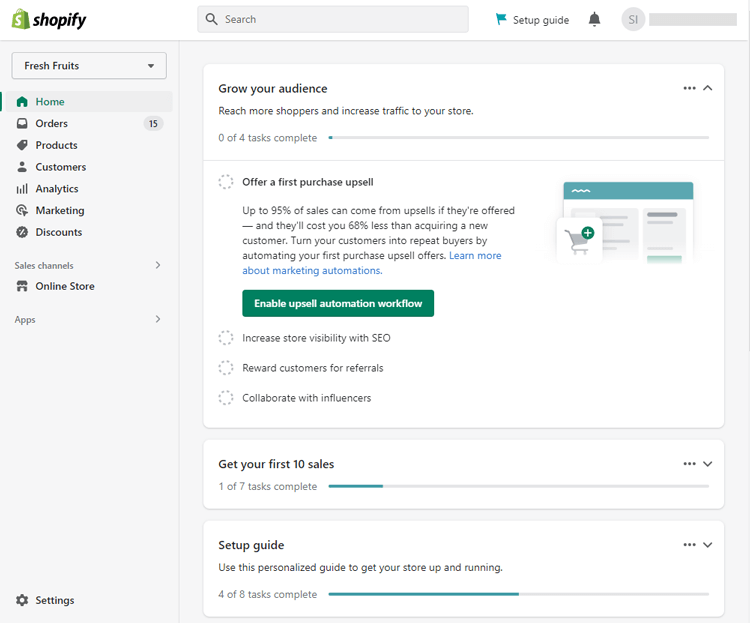 After logging in, go to your Shopify admin page and select "Settings" before selecting "Plan."
Choose "Deactivate store" under the "Plan" column, then pick "Pause and Build plan."
Before confirming the plan, thoroughly check the details of the plan to make sure it is the best option for you.
At last, press "Switch to Pause and build" to switch to the new plan and pause store.
When your online store is paused, it will continue to operate at a lower subscription cost so that you can access your Shopify admin and make changes to your products. Nevertheless, none of your customers will be able to make any transactions during this period.
How to reopen your Shopify store When You Are Ready
Now that you know how to pause a Shopify store and want to reopen it, here are the steps you need to follow:
Use your login information to access your Shopify store as the store owner.
Go to the "Settings" section of your Shopify admin dashboard.
On the Settings screen, select the "Plan" option.
Select the "Choose a plan" option, then pick the plan most closely matches your company's requirements.
Before clicking "Start plan," carefully review the plan's specifics to be sure it has all the features you need.
You can delete the password you created for your online store while on the pause plan.
Your store will be reactivated, and you can resume selling once you have completed these steps and chosen a plan. However, to ensure you have access to all the features and tools you need to run your online store successfully, choosing the right plan that matches your business needs is crucial.
FAQs about pausing a Shopify Store
What happens when I pause my Shopify store?
When you pause your Shopify store, it is temporarily taken offline and can no longer accept new orders. Your store will display a message stating that it is currently unavailable.
Can customers still access my store while it's paused?
No, customers will not be able to access your store while it is paused. Instead, they will see a message stating that the store is currently unavailable.
What happens to my store data when I pause it?
Your store data, including customer and order information, are all saved and securely stored even when your store is paused. Therefore, you can resume operations at any time by simply logging back into your Shopify account.
Can I still edit my store while it's paused?
Yes, you can still access your store's admin panel and make changes to your products, collections, settings, and any other aspects of your store. However, those changes will not be visible to customers until you resume your store.

Wrap up
Pausing a Shopify store can be tough, but it's all about taking a break to reflect and improve. Hopefully, this guide on how to pause a Shopify store was helpful. Whether you need a break from the hustle or want to focus on rebranding and re-tweaking your store's theme, there are several reasons to pause your store.
Use the time to reflect on your strategies and develop new ways to drive traffic to your store. Ultimately, pausing your Shopify store could be the best decision for your business's long-term success.