Refunding purchases on Shopify can be a daunting task, but it doesn't have to be. With the right steps and information, you can quickly and effectively get customer refunds without hassle. This guide will provide a comprehensive step-by-step instructional overview on How to Refund on Shopify, from how to process requests to reversing charges in the system. With detailed and clear guidance, refunding your customers with Shopify is easily achievable and straightforward.
Overview of Refunds on Shopify
Shopify offers returns and refunds for customers that are unsatisfied with their purchase. Shopify takes the hassle out of returning an item by offering customers several options of return policy to ensure their product is correctly returned and refunded quickly and easily. Refunds can be requested through your store or a third-party marketplace, all within Shopify's platform.
Not only does Shopify offer a return policy and refunds but also makes it easy to track orders, process them quickly, and keep a record of what was returned or refunded. Providing top notch customer service is an important part of running an online store, and Shopify helps make it even easier!
Step-by-Step Guide to Refunding Orders in Shopify
There are two ways for Shopify refunds. You can either refund an entire purchase or the Order partially. If you are concerned about how to refund on Shopify, check this out. But first you need to create a return.

Create a return
Creating a return from an existing order is easy and fast through Shopify.
First, log in to your Shopify admin and open the Orders section. Here, you will have the option to select the Order that needs to be created. You can then enter the number of items in the Order that are being returned when prompted.
To make creating returns easier for customers, Shopify offers two options: "Create a return label" or "Upload existing tracking info from another service".
If you purchased a shipping label for the Order but didn't use it, make sure to void it before creating a return. This will ensure accuracy and save both store owners' and customers' time in processing returns.
Refund the entire purchase
Return policy and refunding an entire purchase can be incredibly beneficial to customers and help ensure that they are satisfied with their purchases. By refunding the full price of any item purchased, customers can trust that they will always receive their money back when necessary, providing them a safety net in case something isn't quite right about the product and here's how you can do it —
1. Navigate to Orders in your Shopify admin.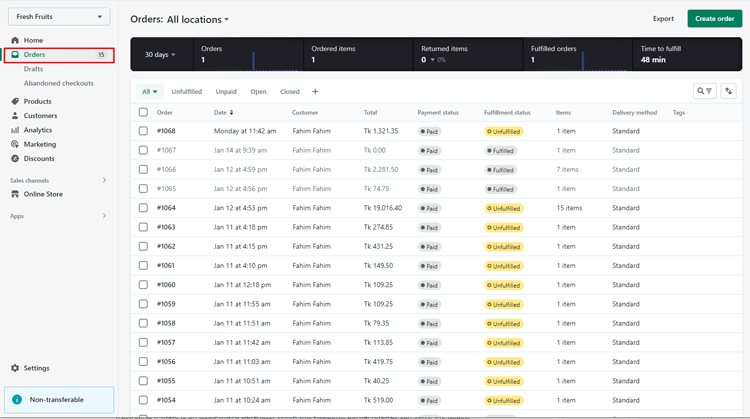 2. Click the Order you wish to refund.
3. Choose Refund items.
4. Input the number of the Order's products that will be refunded.
Any shipping costs are deducted from the refund total amount, not the Total available to refund Amount. If, for instance, you want to add a restocking fee, you can manually change the refund total. Additionally, you can include a refund for any delivery costs.
5. Optional: In the Shipping area, enter the shipping fee you want to be refunded.
6. Optional: Determine whether you want to refund duties and import taxes on refunded Products if the
7. Order includes duties and import taxes. Additional fees: Customs Clearance.
8. Uncheck "Restock items" if you've despatched the items but your buyer hasn't yet returned them. This checkbox is only available if you keep track of inventory for the products on the order.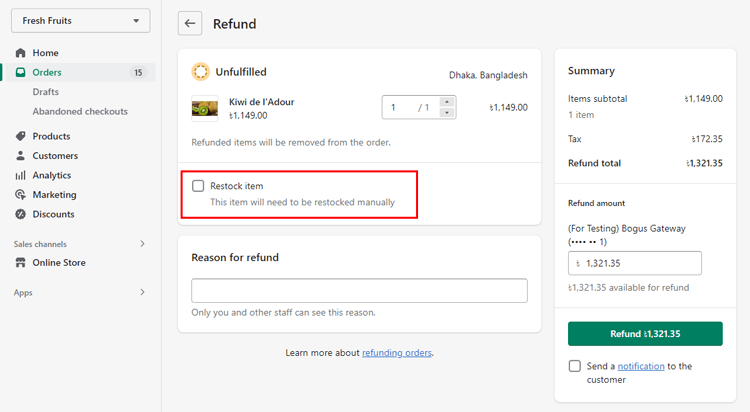 9. Optional: Indicate why you want the return.
10. Uncheck the "Send a notification to the customer" if you don't want to email your customer when you provide the Refund. By default, this selection is selected.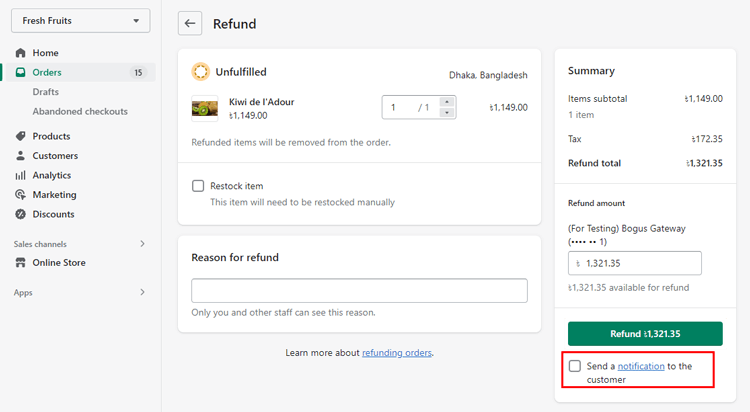 11. To refund the customer's order, "Click Refund".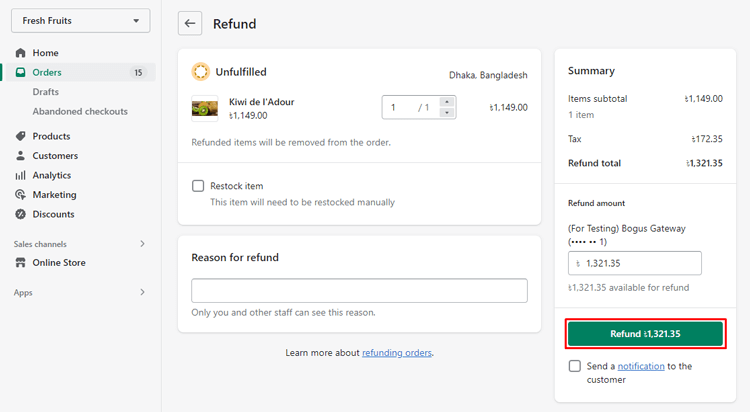 Refund the partial purchase
Shopping online can often be a great way to save time and money, but it can also become quite frustrating if there is an issue with a purchase. When this happens, partial refunds can solve the issues. Here's how you manage a partial Refund for a purchase:
Click Orders in your Shopify admin.
Click the Order you wish to Refund.
Select Refund from the Order Details section.
Input the number of the items you want to return. Products having a quantity of 0 won't be eligible for a refund order.
Any shipping costs are deducted from the revised refund amount (not the Total available to refund Amount). You can manually change this Amount (for example, to charge your customer a restocking fee). Additionally, you can include a refund for any delivery costs.
Optional: In the Shipping section, enter the shipping fee you want to be refunded.
Optional: Determine whether you want to refund the Duties and import tax of the refunded items. And import taxes. If the Order includes duties and import taxes. Additional fees: clearance of the customs
Uncheck Restock products if you've despatched the items but your clients haven't yet returned them. This checkbox is available only if you are keeping track of inventory for the products in the Order.
Optional: Indicate the reason why you want the return.
To request a refund for the products you've selected, click Refund.

Refunding Orders with Shopify POS
What is Shopify POS?
Shopify POS can make selling your products in-person a breeze. It is an all-in-one point of sale app that offers powerful features like item tracking, inventory management and sales reporting. With Shopify POS, you can set up virtual cash registers anywhere from brick-and-mortar stores to markets and pop-up shops.
The intuitive interface makes it easy for users to take payments quickly and efficiently – no more long lines at payment. Shopify POS can help streamline the in-store customer experience and make life easier for both customers and retailers.
How to Refund Orders with Shopify POS
Click on the Shopify POS app's home screen.
Click Order.
Click on the Order of the returning item.
Click Return.
Enter the number of each item you're refunding using the + and – buttons.
Click Next.
Optional: If you don't want to Return any product to your inventory. You can select Restock at this location and turn off the Restock option. Then Click the Save button.
Optional: You can Click on Refund shipping to get your shipping fees back.
Optional: You can enable the Refund balance to a gift card so that the client will receive a balance gift card for the amount of the Refund. The gift card product must be published to the POS sales channel for this option to be available.
If the customer used multiple access payment methods, you can distribute the return among those identical methods. Enter the Amount of Refund you want to refund to each payment method by Clicking on the Edit button.
Optional: Add an explanation for the return.
Click Return when you are ready to complete the Refund.
Click Mark as refunded.
Optional: Give the client a receipt.
Tap "Done"
Tips and Strategies for Optimizing Refunds in Shopify
If you own a Shopify store, one of the most important strategies for optimizing refunds is to have a clear and simple returns policy in place. Here are a few tips —
Prioritizing Customer Service
One of Shopify's most important strategies for optimizing refunds is prioritizing customer service. When a customer has an issue or problem with a product, providing prompt and efficient assistance is paramount to resolving the situation to their satisfaction – and preventing future returns.
Furthermore, being proactive in reaching out to customers can help quickly identify and address potential problems that might result in returned products or dissatisfied customers. By understanding customer expectations for refunds and proactively mitigating risks related to refunds, retailers using Shopify can help optimize their operations long-term.
Establishing Clear Refund Policies
Establishing and communicating clear refund order policies should be a priority when setting up your Shopify platform. Start by defining what products can be returned as well as the required terms and conditions that must be met before initiating a return or Refund.
Additionally, identify how any refund received will be handled, how long it should take to process, and how it will affect your customer experience. Keeping open communication between you and your customer helps build trust and loyalty-based relationships that are essential for a successful online e-commerce business!
Frequently Asked Questions
How do refunds work on Shopify?
The same payment method that was used to place the Order is used for refunds. Refunds cannot be made to other cards or bank accounts. The same currency that the consumer used to pay for the Order is used to issue refunds.
How long do Shopify refunds take to process?
Unless the consumer used a gift card rather than cash to make their purchase, refunds may take up to 10 business days to be issued back to the original payment method, according to the Shopify Help Center.
Can you refund just shipping on Shopify?
The quick answer is that shipping refunds are possible on Shopify.
Hire Shopify Experts to develop your store (Recommended: ShopiBuffet)
Are you ready to revolutionize your Shopify store? Look no further than ShopiBuffet, the gateway to eCommerce greatness! Our team of Shopify experts is here to ignite your success and take your store to next level.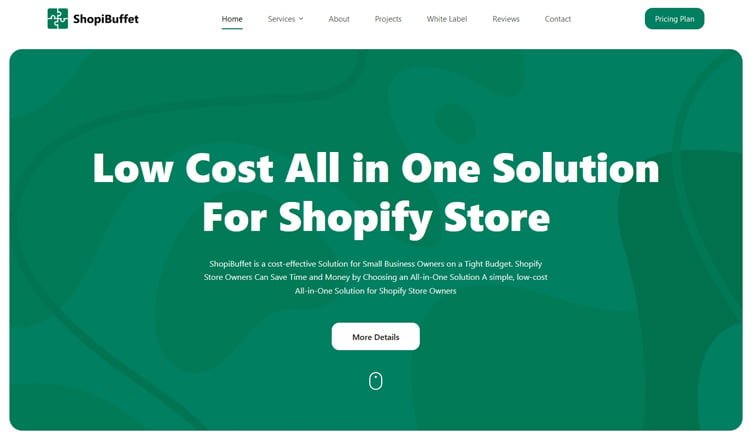 Our Top Services:
Shopify theme development and customization.
Shopify App development and customization.
Shopify store setup and customization.
Shopify SEO service.
PSD to Shopify theme or Figma to Shopify conversion.
Benefits of using ShopiBuffet Services:
Access to skilled Shopify experts and developers.
Time-saving solution for store setup and management.
Quick and easy store setup process.
Wide selection of 140 Shopify themes.
Customization options for personalized store design.
Store optimization for improved performance.
Conversion-focused approach with online tracking.
Ongoing support and assistance.
Affordable pricing plans.
It's time to break free from the ordinary and embrace the extraordinary. Click the button below and embark on a thrilling journey to e-commerce success with ShopiBuffet by your side!
Conclusion
Shopify is a safe and trustworthy way for merchants to accept payments and manage their business. The process of how to refund on Shopify is straightforward to use and clear in its requirements. However, it's important to remember that customers may not always agree with the return policy, which can be quite a hassle to navigate.
A customer-oriented approach to refining those policies could go a long way toward improving customer experience in the long run. After all, happy customers are the backbone of any successful enterprise.